Changing Tourism
TOURISM ADAPTED TO
CLIMATE CHANGE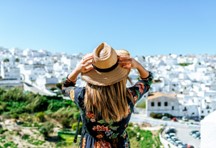 Introduction
Climate change has a direct impact on tourism. The main season starts earlier and ends later due to the increasing average temperature. People like having rest nearby the water on extremely hot and sunny summer days. Nevertheless, periods of drought can cause low water level and bad quality, or even temporary drying up of lakes and rivers. In addition, we also feel the effects of global warming in winter.
Description
Tourism is the third largest sector in the EU and has a huge impact on greenhouse gas emissions, arising from the transport of tourists. Climate change has an impact not only on when to go for a holiday, but also on the destination choice. Mediterranean areas have started to become so hot and/or humid that tourists consider travelling at the beginning or at the end of the main season in order to avoid the warmest periods. But if they would like to go for summer holiday, they might choose another destination where the temperature is not above the comfort level.
Due to the heat island effects, sightseeing tours in metropolises can become less popular in summer. Cities could help tourists by providing dedicated mobile apps to find shaded or cooled areas, fresh water, sending warning messages on heat wave days, and recommending climate adaptive and weather-independent tourism programmes. Digital solutions can also support sustainable tourism management. Nature lovers might have to find new destinations or dates as climate change has negative impact on the ecological landscape of tourist destinations, too. However, as some destinations become less attractive for the tourist due the effects of climate change, other places might become more preferred than earlier, e.g., the United Kingdom. Furthermore, global warming increases the sea level and causes erosion which can have negative effect on coastal areas and the available recreation activities.
In winter, ski lovers have to face a shorter season, while low lying ski resorts suffer from decreasing snow cover. This can also result in the selection of another destinations.