Efficiency in Urban Planing
EFFICIENCY IN
URBAN PLANING
GREEN URBANISM RELATED
TO ENERGY CONSUMPTION
Introduction
Urban design is vital to achieve energy efficiency objectives in our cities. As a compact city with mixed uses can lower our mobility needs, green spaces can protect us from extreme temperatures. The orientation of streets and buildings can reduce drastically their energy demand, or well-organized public services can promote cleaner ways of transport. This is efficient urban palnning.
Description
Urban sustainability or sustainable urbanism is a model of cities development in which buildings and urban areas are designed, planned and built meeting different criteria that ensure long-term quality results with regards to energy consumption, air quality, natural resources consumption, transportation, etc.
The main strategies for city leaders to shape their cities for greater energy efficiency include:
Build compact and well-connected urban areas with dense network of streets and paths.
Prioritize walking, cycling, and public transportation for access to jobs, social services, and environmental amenities.
Foster transit-oriented developments and mixed-use neighbourhood.
Optimize designs of buildings and neighbourhood to suit local climatic conditions.
Ecological view of the city: They should emulate nature to maximize the benefit of natural systems and preserve and restore the natural environment, including land use optimization.
To make cities more resource-efficient, different but inter-dependent components of the urban system, such as energy, housing, transport, waste management, public spaces, and green areas need to be changed simultaneously.

Main Features
Compact, well-connected
Mixed-uses
Green areas
Integration of renewables
Quality urban space
Green services/ infrastructures
Integrated in surrounding conditions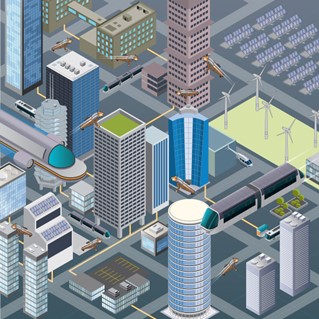 Advantages and challenges
Impacts on the environment are minimised.
Citizen quality of live is improved, among others it helps to promote healthy habits such as pedestrian transport and cycling.
Compact city with mixed resources allows a 15 minutes city, in which citizenship can reach all basic services just walking in their neighbourhood.
Less dependency from imported energy sources, improved stability.
Local economy is boosted as energy efficiency means less energy expenses.
Lack of interdisciplinary project teams and knowledge to apply it.
Need of change of different city streams that are not easy to achieve.