Sustainable Drainage Systems
SUSTAINABLE DRAINAGE
SYSTEMS
WATER AS NATURAL
RESOURCE
Introduction
Sustainable drainage systems (SUDS) are drainage solutions for the urban environment, which provide an alternative to remove urban surface waters via pipe networks and sewers to nearby watercourses or dedicated catchments. With appropriate SUDS, authorities can manage heavy rains efficiently.
Description
Sustainable urban drainage systems have been developed to reduce the volume of surface runoff and improve drainage of urban areas. SUDS allow water to be controlled using trees and vegetation, green roofs, ponds and wetlands. Alongside a reduction in the risk of flooding, SUDS in the urban landscape can also provide other environmental and ecological benefits. The benefits of implementing SUDS are typically improved water quantity, quality, amenity and biodiversity. SUDS can also contribute to noise reduction, air filtering, support biodiversity and provide an aesthetically pleasing communal green space.
An example of SUDS are green roofs which can increase storm water interception and storage, evaporation in highly urbanised areas, especially when space to introduce green infrastructure is restricted. SUDS are expected to grow as a green city solution in view of climate change and the extreme weather being experienced across most EU Member States.
SUDS are unique to each situation and take account of environmental issues, policy context, physical location, relevant organisations, individuals involved and how they are brought together to discuss SUDS at a particular point in time.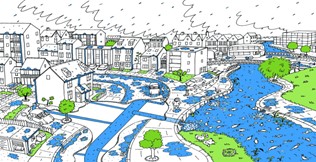 Main Features
The four general structures for flood and pollution control are:
Basins and ponds
Filter strips and swales
Permeable surfaces and filter drains
Infiltration devices
Advantages and challenges
Reduce runoff, thereby reducing the risk of flooding.
Improve water quality and protect from point or diffuse pollution.
Safeguard the environment and needs of the local community.
Provide a habitat for wildlife.
Allow new development in highly urbanised areas.
Skill shortages.
Lack of legislative backing.
Poor planning process.
Severe lack of resources in local authorities.
Difficult terrain and limited storage capacity.
References
Sustainable drainage systems (SuDS)