Servitisation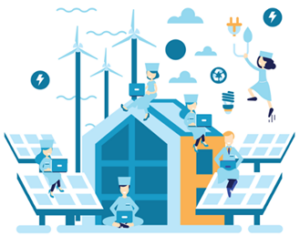 Image source: www.goodsign.com
Introduction
Servitisation refers to the potential of reducing material needs by changing a product's ownership or its offer as a one-off sale alone, in favour of providing a more comprehensive service or solution. The opportunity lies in delivering a package of services, goods, support, and knowledge that together offer a better solution to the customer.
Description
The servitisation model offers solutions around typical barriers that impede the uptake of greener city ambitions, despite their clear economic benefits, including high up-front costs, performance uncertainties, and more tangible or easier investment priorities. Servitisation is generally defined as adding services or solutions to cities, citizens and business; and which deliver greener environments or outcomes on an ongoing basis. Servitisation also offers a lot of potential for a more circular economy in terms of greener solutions that disrupt current systems.
An example of this model can be found in the switch undertaken by the photocopier industry which started leasing multifunctional products to foster a pay-per-printed or scanned page model rather than just printers and cartridges, thus reducing customers capital outlay, while securing long-term relationships and improving profit margins.  More recent models can be found in renewable energy projects where the customer pays a fixed fee per unit of service consumed, while the ownership of the system remains with the technology provider, who remains responsible for all operation and maintenance costs.
Servitisation offers some interesting opportunities for ecological innovation, sustainable product-service systems and resource efficiency.

Advantages and challenges
Transformation from up-front payment to pay-per-period or per use.
More efficient supply chains which are less intrusive on cities.
Better alignment with citizen or customer needs and expectations.
No product obsolescence and increased sustainability.
More flexible offers to citizens or customers.
Improved repairability and modularity.
Service becomes a value offer rather than a just a cost but a value.
Initial capital investment is typically reduced.
Sometimes only large implementations can achieve the necessary critical mass.
Requires a substantial change in mindset.
High volatility in intensity of services provided and cash flow support needs to be proactive instead of reactive in order to minimise service downtime and maintenance costs.